"All My Hits - Todos Mis Exitos," was a compilation album released for Selena, that was originally planned as a solo album. Included in the album case, was a commemorative Selena pin. After the albums release, sales of it were so high, that it spawned a second volume.
Tracklisting
Edit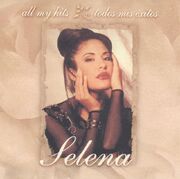 This CD, featured most of Selena's hits, both english and spanish, as well as some novelties for the fans, such as the original version of No Me Queda Mas, the complete Disco Medley performance, and the Anthology version of Missing My Baby.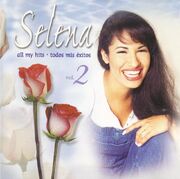 This CD, was not originally planned, but given the success of the first album, they geared this one towards the fans, even more, with the inclusion of remixes, (some of early hits), live performances, and a re-recorded version of the duet, Tu Robaste Mi Corazon, that Selena originally did with Emilio Navaira, was done with her former band member, and sometimes duet partner, Pete Astudillo.
Ad blocker interference detected!
Wikia is a free-to-use site that makes money from advertising. We have a modified experience for viewers using ad blockers

Wikia is not accessible if you've made further modifications. Remove the custom ad blocker rule(s) and the page will load as expected.