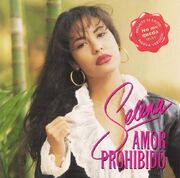 Amor Prohibido, is the sixth album released by Latina superstar Selena. Today, it remains one of the biggest selling Latin albums of all time, having been certified 2x platinum, by the RIAA. In Mexico, the album sold five million copies, and produced four number one singles, on the Billboard Hot Latin tracks chart.
Production
Edit
Continuing the formula of previous albums, A.B. Quintanilla, III teamed up with Pete Astudillo and Ricky Vela, to come up with what they hoped, would be a successful Selena album. Its singles, "Amor Prohibido", "No Me Queda Mas", "Bidi Bidi Bom Bom", and "Fotos y Recuerdos," became huge hits at radio stations, in the U.S. and Mexico.
The album made the Billboard 200 pop albums chart and replaced Gloria Estefan's Mi Tierra at number one on the Billboard Top Latin Albums chart. It spent twenty non-consecutive weeks at number one on the chart over the next year, the final 16 weeks being propelled by Selena's death in March 1995. It also led to six awards at the Tejano Music Awards and another Grammy Award nomination in 1995 for Best Mexican/Mexican-American album. The unexpected success of this album led to extensive touring and promotion that is much to blame for the stalled efforts of recording Selena's English-language album, Dreaming of You, which was incomplete and posthumously released in 1995. More than 400,000 copies of "Amor Prohibido" were sold in the U.S. and another 50,000 in Mexico by the time of Selena's death.
The album was certified 2x platinum in Latin standards shortly after its March 1994 release and to capitalize on the success Capitol/EMI-Latin records re-released the album with a red label on the front cover indicating that album included a new version of "No Me Queda Mas".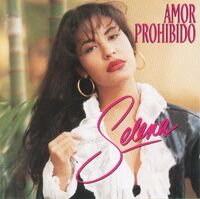 Tracklisting
Edit
Album Credits
Edit
Performance Credits
Chris Perez Guitar
Henry Gomez Guitar
Rafael Garza Trumpet
Rene Gasca Trumpet
Gilbert Garza Trombone
Johnny Saenz Accordion
Selena Vocals
Ricky Vela Keyboards
Joe Ojeda Keyboards
Suzette Quintanilla Drums
Stephanie Lynn Background vocals
Rick Alvarez Background vocals
Rock 'N' Roll James Background vocals
Technical Credits
Abraham Quintanilla III Producer
Awards & Certifications
Edit
| Year | Certification | Provider |
| --- | --- | --- |
| 1994 | Certified 2x Platinum | RIAA |
Chart Toppers
Edit
| Year | Song | Hot Latin | Hot 100 |
| --- | --- | --- | --- |
| 1994 | Amor Prohibido | 1 | 5 |
| 1994 | No Me Queda Mas | 1 | 13 |
| 1994 | Bidi Bidi Bom Bom | 1 | 11 |
| 1995 | Fotos Y Recuerdos | 1 | 12 |
| 1995 | Si Una Vez | 4 | 3 |
| 1995 | El Chico Del Apartamento 512 | 6 | 6 |
External Links
Edit
Selena's albums
Edit