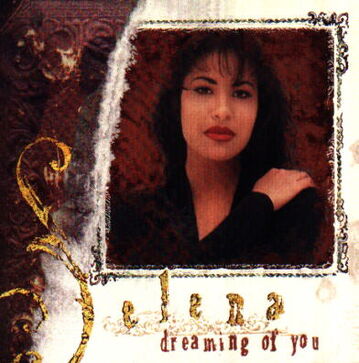 "Dreaming of You"
 is the name of a 
Selena
 love song written by 
Franne Golde
 and 
Tom Snow
. It was Selena's biggest single, peaking at #22 on the
Billboard Hot 100
. The song was released at the end of the first quarter of 1995, after Selena's murder. It appeared on 
the album
 of the same name, which was released posthumously.
Reception
Edit
Robert Johnson of Planet Music, a record chain in Houston, told New York Times that people in Houston were buying copies of the album Dreaming of You because of the single "Dreaming of You".[1] 15 years after her death, Teresa Jusino of Popmatters wrote: "Even the most sheltered English-speaking music fan might not know Selena's name, but if you mention her hit singles, "Dreaming of You", or "I Could Fall in Love," they'll likely respond with 'I remember that song!', or 'I love that one!'."[2]
Peter Watrous of The New York Times wrote: "It's not that she didn't sing well in English; she spoke English substantially better than she did Spanish. It's that the English song writers didn't step up to the bar with their best material. The music is faceless commerce. That she sings it so well on the album suggests that she had a good chance of success, working lush ballads in an anonymous pop style that Disney has mastered."[3]
Music video
Edit
The music video, made in 1995, features a young woman who escapes from her home to run off with the man she loves and wants to marry. The video ends with her leaving with him in a red car. Selena is only seen in this video on the wall (poster), a TV in the background, and on the small radio in the young woman's room. The video was shot in Los Angeles, California.
Track Listing
Edit
US Maxi-CD
Dreaming Of You (Radio Edit) 4:15
Dreaming Of You (Album Version) 5:15
Chart performance
Edit
Personnel
Edit
Produced by: Guy Roche
Vocals: Selena
Mixed by: Nathaniel "Mick" Guzuaski
Assistant engineer: Moana Suchard
Recorded at: Bananaboat Studio, Burbank, CA, Track Record, North Hollywood, CA, Westlake Studio, Hollywood, CA
Mixed at: Conway Studio, Hollywood, CA.
References
Edit
Ad blocker interference detected!
Wikia is a free-to-use site that makes money from advertising. We have a modified experience for viewers using ad blockers

Wikia is not accessible if you've made further modifications. Remove the custom ad blocker rule(s) and the page will load as expected.