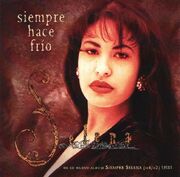 "Munequito de Trapo" (Eng: Rag Doll) is the last single released from the album, Muñequito de Trapo, in 1986 from the band Selena y Los Dinos whose lead singer Selena recorded the song for her fourth independent album from Manny Labels. Juan H. Barron wrote the song that same year [1]. "Munequtio De Trapo" was released as a two-sided vinyl single with "A Million to One" as the B-side.
References
Edit
Ad blocker interference detected!
Wikia is a free-to-use site that makes money from advertising. We have a modified experience for viewers using ad blockers

Wikia is not accessible if you've made further modifications. Remove the custom ad blocker rule(s) and the page will load as expected.