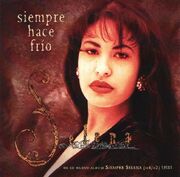 Oh Mama was released as a promotional single from the band Selena y Los Dinos in 1985. Oh Mama was the ninth out of ten singles that was released from the album The New Girl in Town. "Oh Mama" gave Selena much success that she appeared on the "Johnny Canales Show" and sang most of all her songs from The New Girl in Town and stood on the show until her death. "Oh Mama" became so famous that the song became a hit to other artists that later sung the song.
Despite being one of her more popular early offerings, the song is not available on any of Selena's albums, and is extremely rare. It is unlikely that the song will be made officially available by EMI Latin, Selena's label of record at the time of her death.
References
Edit
Ad blocker interference detected!
Wikia is a free-to-use site that makes money from advertising. We have a modified experience for viewers using ad blockers

Wikia is not accessible if you've made further modifications. Remove the custom ad blocker rule(s) and the page will load as expected.