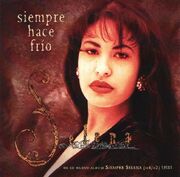 "Se Me Hace" (English: I'm Thinking) was released as a promotional single for the band Selena y Los Dinos in 1983. "Se Me Hace" was the third out of ten singles released from the album The New Girl in Town. The composer is unknown.[1] "Se Me Hace" was also released as a vinyl a/b sided single which compressed the song Estoy Contigo.
Versions and albums appearances
Edit
Pesado recorded their version of "Se Me Hace" for their album Tu Encuentro which was released on February 16, 1999.[3]
YouTube views
Edit
"Se Me Hace" was released on YouTube on July 1, 2008 and has views of 1,864.[4] This version is also the remastered version of "Se Me Hace".[5]
References
Edit
Ad blocker interference detected!
Wikia is a free-to-use site that makes money from advertising. We have a modified experience for viewers using ad blockers

Wikia is not accessible if you've made further modifications. Remove the custom ad blocker rule(s) and the page will load as expected.