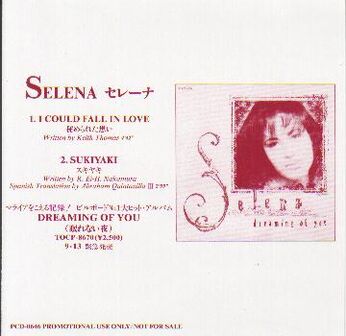 Template:Nihongo
is a Japanese-language song that was performed by Japanese
crooner
Kyu Sakamoto
, and written by lyricist
Rokusuke Ei
and composer
Hachidai Nakamura
. It is best known under the alternative title "
Sukiyaki
" in English-speaking parts of the world. The song reached the top of the
Billboard Hot 100
charts in the United States in 1963, and was the only Japanese-language song to do so. In total it sold over
13 million copies internationally
.
[1]
[2]
The original Kyu Sakamoto recording also went to number eighteen on the R&B chart.
[3]
In addition, the single spent five weeks at number one on the
Middle-Road
charts.
[4]
The recording was originally released in Japan by
Toshiba
in 1961. It topped the Popular Music Selling Record chart in the Japanese magazine
Music Life
for three months, and was ranked as the number one song of 1961 in Japan.
Well-known English-language cover versions include a 1981 cover under the title "Sukiyaki" by A Taste of Honey and a 1995 cover by 4 P.M.. There is also an English language version with altogether different lyrics by Jewel Akens under the title "My First Lonely Night" recorded much earlier in 1966. There are many other language versions of the song as well.
The lyrics tell the story of a man who looks up and whistles while he is walking so that his tears won't fall. The verses of the song describe his memories and feelings. The English-language lyrics of the version recorded by A Taste of Honey are not a translation of the original Japanese lyrics but a completely different set of lyrics set to the same basic melody. No one of the work with the new one one of A we CX,City of Hope it The title Sukiyaki, a Japanese hot pot dish, has nothing to do with the lyrics or the meaning of the song; the word served the purpose only because it was short, catchy, recognizably Japanese, and more familiar to most English speakers. A Newsweek columnist noted that the re-titling was like issuing "Moon River" in Japan under the title "Beef Stew."[5]
Covers and variations
Edit
In 1963, the British record label Pye Records released an instrumental cover version of the song by Kenny Ball and his Jazzmen. They were concerned that English-speaking audiences might find the original title too difficult to remember/pronounce, so they gave it the new title of "Sukiyaki'". This title was retained when Capitol Records in the United States, and His Master's Voice (HMV) in the UK, released Kyu Sakamoto's original version a few months later. Sakamoto's follow-up to "Sukiyaki," "China Nights (Shina no Yoru)," charted in 1963 at number 58. That was the last song by an artist from Japan to reach the U.S. pop charts for 16 years, until the female duo Pink Lady had a top-40 hit in 1979 with its English-language song "Kiss in the Dark."
Several other artists have recorded cover versions of the song, while others have written and/or performed songs based on the melody:
In 1963, Brazilian vocal music Trio Esperança, then child singers, released a cover of the song in Portuguese, called Olhando para o céu, on their debut album "Nós somos sucesso". The lyrics in Portuguese were written by Romeo Nunes.
In 1963, Dutch band Blue Diamonds released a cover version.
In 1963, The Ventures did a gentle instrumental cover of the song on its album release "Let's Go!"
In 1963, Canadian singer Claude Valade recorded a French version, "Sous une pluie d'étoiles".
In 1965, the Hong Kong-based band The Fabulous Echoes (later known as Society of Seven) recorded the song.
In 1966, US soul singer Jewel Akens released the song as "My First Lonely Night" as part of his double A side single "Mama, Take Your Daughter Back"/"My First Lonely Night" on ERA records. This is probably the nearest translation to the original; although not a literal such, it tells a similar story of a lonely man walking through the night, after losing his love.
In 1967, The Ginny Tiu Revue recorded this on their self-titled first album.
Canadian singer Lucille Starr recorded a version of "Sukiyaki" that featured English-language lyrics.
In 1975, the Hawaii-based Cecilio & Kapono recorded a markedly different English-language version in their album Elua released on Columbia Records.
In 1981, a cover by A Taste of Honey reached Top 3 on U.S. Billboard Hot 100 chart.
In 1989, Selena recorded a Latin-influenced cover.
In 1995, a version by 4 P.M. reached number 8 on the US Billboard Hot 100 charts.
In 1995, a reggae version by Sayoko both in English and Japanese featuring Beanie Man.
In 1995, Jackie And The Cedrics recorded a surf version, "Sukiyaki Stomp", as the "B" side of "Scalpin' Party", with "Justine" as the 3rd song on the 7" vinyl EP. They also performed the song as part of their live set, including when they appeared in NYC in 1999.
In 1996, Brazilian axé singer Daniela Mercury recorded "Sukiyaki" with its original Japanese-language lyrics. The song was released outside Brazil only, as an international bonus track on her 1996 studio album Feijão com Arroz.
In 2000, solo violinist Diana Yukawa recorded "Sukiyaki" on her bestselling debut album (known as Elegy in the UK and La Campanella in Japan). Yukawa also performed "Sukiyaki" various times on the mountainside where her father, Akihisa Yukawa, died in the Japan Airlines Flight 123 crash with Sakamoto.
In 2000, Big Daddy did a smooth retro version which appeared in their comp CD, "The Best Of Big Daddy".
A Taste of Honey version
Edit
</noinclude>
The cover version by A Taste of Honey reached number three on the U.S. Billboard Hot 100 chart.[6] It also went to number 1 on Billboard's Adult Contemporary chart and Soul chart).[7]
A Taste of Honey version used English-language lyrics, written by A Taste of Honey group member Janice Marie Johnson, who was given permission by the original song's copyright holders to write the English-language lyrics on the understanding that she receive neither official credit nor remuneration.[citation needed] Johnson is quoted in The Billboard Book of Number One R&B Hits by Fred Bronson as saying that when she translated the original Japanese lyrics into English, she found out that the lyrics could be interpreted in three ways: as a man on his way to his execution, as someone trying to be optimistic despite life's trials, or as the story of an ended love affair. "Me being the hopeless romantic that I am," she explained, "I decided to write about a love gone bad."[citation needed]
A Taste Of Honey's version of "Sukiyaki" first appeared on their 1980 album "Twice As Sweet". It was released as a single in 1981.
This version is often (incorrectly) associated with Japanese pop singer Hikaru Utada.
Chart (1981)
Peak
position
Billboard Soul Chart
1
Billboard Adult Contemporary
1
Billboard Hot 100 Chart
3
4 P.M. version
Edit
</noinclude> 4 P.M.'s 1995 version reached number 8 on the Billboard 100 charts. 4 P.M. version also uses the same English-language lyrics written by Janice Marie Johnson. The 4 P.M. version was also a chart success in Australia reaching number 3 and in New Zealand reaching number 5.
Chart (1995)
Peak
position
Australia (ARIA)[8]
3
New Zealand (RIANZ)[9]
5
Billboard Hot 100[10]
8
Billboard Pop Songs[10]
5
Billboard Adult Contemporary[10]
17
Selena version
Edit
</noinclude>
"Sukiyaki" (Template:Lang-en), (Template:Lang-es), was a single released by Selena in 1990, which was released as the fourth single from the 1989 self-titled album Selena. The song received much airplay at the time of release. It was a Spanish-language version of the song (featuring the lyrics written by Janice Marie Johnson translated into Spanish).
It was released as a single in the United States and Japan. It was included in several of Selena's greatest hits packages before and after her death.
Other uses
Edit
On March 16, 1999, Japan Post issued a stamp that commemorated the song.[15] The stamp is listed in the Scott Standard Postage Stamp Catalogue as Japan number 2666 with a face value of 50 yen.
References
Edit
External links
Edit
Ad blocker interference detected!
Wikia is a free-to-use site that makes money from advertising. We have a modified experience for viewers using ad blockers

Wikia is not accessible if you've made further modifications. Remove the custom ad blocker rule(s) and the page will load as expected.