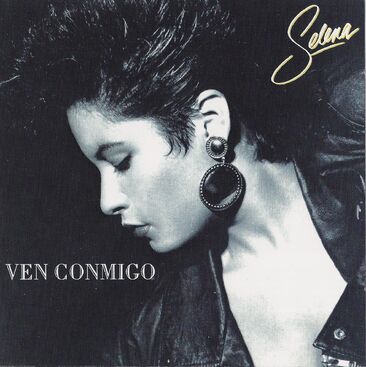 Ven Conmigo
(En:
Come With Me
) was the third album released by rising Latina superstar
Selena
, on November 12, 1990 for the
CAPITOL/EMI Latin
label. This album, was the first to market Selena as a solo artist, no longer identifying her albums, with Selena Y Los Dinos, though they were still very much a part of the mix. The album itself sold 50,000 units in America, and was certified Gold by the RIAA. Another 242,802 copies were sold on Amazon.com, verifed from their sellers rank.
Production
Edit
The group re-recorded "La Tracalera", a cover version of a song by the original Dinos, as well as "Aunque No Salga El Sol" which they had originally recorded, in 1984. The song "Baila Esta Cumbia" was an instant hit in the U.S., and later crossed over to Mexico. Ven Conmigo was the group's first Gold album.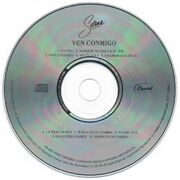 20 Years Of Music
Edit
A remastered version was released in 2002, with bonus tracks and Spoken Liner Notes by the family and friends, who witnessed the enitre production.
Tracklisting
Edit
2002 Bonus Tracks
Edit
Album Credits
Edit
The album Ven Conmigo was recorded and mixed at ZAZ Studios in San Antiono, Texas. The engineer was Gilbert Velasquez who also mixed the album. The album's main photo was taken by Robert Lopez. The album was produced, arranged, and performaned by A.B. Quintanilla III. The co-arranged was Ricky Vela and Jose C. Ojeda. The midi and computer sequencing was made by Ricky Vela.
Additional Credits
Edit
A.B. Quintanilla, III, wrote and produced almost every song on Ven Conmigo. David Lee Garza, the accordion player for the title track, "Ven Conmigo, participated in the writing and production, as well.
Selena Quintanilla-Perez (Lead Vocals)
Suzette Quintanilla (Drummer)
A.B. Quintanilla III (Bass & Vocals)
Ricky Vela (Keyboard)
Jose C. Ojeda (Keyboard)
Peter "Pete" Astudillo (Back-up vocals)
Mike Orosoco (Guitar)
Certifications
Edit
| Country | Certification |
| --- | --- |
| USA | 2x Platinum (Latin) |
The album cover was photographed in black and white, because Selena had dyed her hair jet black, the night before, and some of it was visible on her face. During the photoshoot, Selena and her record company went for a more Freestyle Pop feel, that was popular at the time of the albums release.
Selena's Albums
Edit